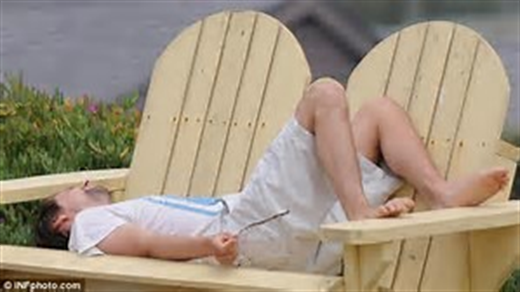 When I came home from work today, I notice a pair of flip-flops hanging on Melissa's door. I ask why they are there. I get no answer, so I can only figure that someone is getting a head start on summer.
---
Flip-flops remind me of Margaritaville.
---
What do you think of when you hear the words flip-flops or see them? I think of Jimmy Buffett's "Margaritaville," beaches, pools, tropical drinks and a great vacation.
This is the time of year where we seriously start to think about our summer vacation. Two years ago, we went to Charleston, South Carolina, and Savannah, Georgia. This year I really would like to go to a resort on a beach that has a pool, as well, and do a whole lot of nothing.
My first thought was to go to the Caribbean and stay on an island like Curacao, Aruba or Dominican Republic. My second thought was a Caribbean cruise. Ergo, a couple of weeks ago, I went to a travel show held by AAA at one of the local colleges, and I sat down with one of their travel counselors.
---
---
I explained the budget within which I wanted to work. Try as we might, nothing was coming up with the price I found comfortable. Karen, the travel consultant, was a very nice woman. She sat with me for two hours, going over cruises and resort vacations. To tell the truth, I was losing patience with myself. I can only imagine how she felt.
I left with my head spinning and vowed not to look at anything for a couple of days. The other cost involved would be getting passports for the kids, since they didn't have them.
We switched to the idea of a domestic vacation, most probably the west coast of Florida. That's as close as you can get to tropical without leaving the country. A few years ago, we went to Clearwater. I'm thinking that this year we'll go to Marco Island by way of Fort Myers.
---
Organizing a vacation is not easy.
---
The challenge to a vacation such as this is finding flights that leave at reasonable times, without too long of a layover, and getting a hotel that is on the beach, centrally located to local attractions. Getting reward points toward future travel is also a good thing.
There are so many travel websites to look at that it makes my head spin in circles. I've look at AARP-Expedia, Travelocity, Trip Advisor, Working Advantage, Trivago and individual hotel and airline sites. There are some discount codes, but they change weekly and monthly.
Melissa says she wants to see dolphins and palm trees. I can certainly promise the palm trees, but not the dolphins. Did you know that a dolphin experience at any attraction is around $200 per person? I honestly don't know if it's worth it. Maybe, if she pays for it herself she can do it.
I want to do as little running around as possible. When we were in Clearwater, we drove all over town; Tampa, as well, but, not this time. Maybe we'll do some sightseeing for two or three days, but that's it. I want to sit around the pool or go to the beach, put on some music and read a book. This needs to be a very relaxing vacation.
Please wish me luck and safe travels.