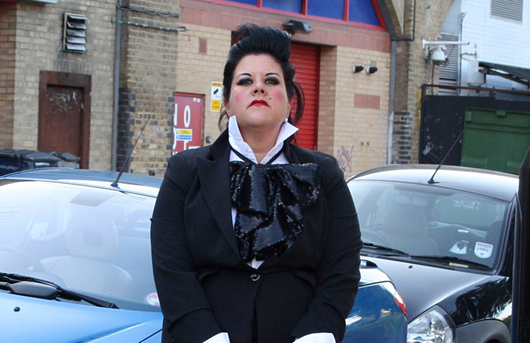 US-born Amy Lamé, Night Czar of London, England
Is it time for Wellington to appoint a night czar? That question ran through my mind as another pub, the Midtown Brewery, opens in once oh-so-dry Wellington, Ontario. It joins The Stache, The Courage, The Soup Opera, The Drake, The Duke of Wellington, The Legion, Pomadoro and East & Main as licensed establishments. I haven't brought in, well, now I have, the nearby wineries and microbreweries just a hop, skip and jump outside of town.
---
What is a night czar?
---
A night czar, so I read, is a person tasked with making sure that life happens efficiently and pleasantly. She or ensures money flows into the local economy, accordingly, during what most people would regard as the wee hours, of the night. In fact, I only know of one place, London, England, that has appointed a night czar, although Toronto toyed with the idea. The appointment, of US-born Amy Lamé, as Night Czar of London, came only in the past few months.
London has lost about half of its nightclubs and a third of its local music venues in the past 10 years, largely due to development pressures. The task of the night czar is to stop the slide and make things happen. Previous municipal initiatives, all of which she will build on, have included attempts to synchronize bar hours with public transportation hours, impose the burden of soundproofing on nearby developments rather than nightclubs and reduce municipal fees. The job is only half time, but the hours are flexible and the holder will have to spend much of it getting to know the nightlife scene intimately. What a burden.
What is at stake is the loyalty of the young, hip and flush with cash. With Brexit upon them, the young and hip may choose to move elsewhere in Europe, if the club scene is inadequate. There is much to lose and much to gain. The nigh time economy of London is believe worth some $72 billion annually; bringing more cohesion to that segment of the economy could increase revenue by almost $5 billion.
Why should Wellington consider this? London has a problem, not us. The denizens of our Wellington drinkeries do not have Paris, Frankfurt or Copenhagen as easy options. Remember, hipness is a fickle mistress and the millennials descending on Wellington could easily migrate to Carrying Place, or Quinte West or Grafton.
---
A night czar might help stretch tourist season for Wellington.
---
Perhaps, in our efforts to stretch the tourist season into spring and fall we have missed the barn door. When people visit Wellington, they are here for 24-hour days. They are looking for round the clock entertainment and more opportunities to spend.
I would bet you that our night economy still brings in less than $1 billion a year, so we surely have an opportunity to grow even more. We have to strike while the foam is still on the draft, so to speak.
What is the pay for a night czar? Well, Wellington, Ontario, has a population that is statistically equivalent to zero in relation to the population of London. The London position is only half time, so ours would take less, maybe an hour or two a week. You could well argue we are looking at a volunteer position; besides, the benefits, such as free bicycle parking, would alone attract good candidates.
What would a night czar do for Wellington? Finding a locally based taxi service, so that one wouldn't have to wait for one from Picton, would be a start. Alternatively, the horse and carriage service, replete with liveried attendants, now prowling Main Street could put in a night shift as well. An all-night restaurant and convenience store, grocery, gas station and pharmacy would be available in most other cities purporting to have a nightlife scene.
Free outdoor concerts starting at midnight, in the city park, is an idea. A nighttime fishing derby is a good idea, too. Christmas lights might stay up, all year, and turned on all night; the museum could stay open. Flood light our golf course would to facilitate late night golf; the arena could stay open for public skating all night, all year round. Nighttime weddings could become the rage. Perhaps someone could open a disco or a biker bar.
---
Wellington might need a daytime czar, too.
---
There may be some complications for a night czar to consider. Just because people are hip, it doesn't follow that they don't get rowdy. More importantly, to turn some of our services into nighttime services might only force them to close during the day. Maybe Wellington needs a day czar as well as a night czar, just to ensure that one isn't poaching on the other's turf. That would turn some heads, perhaps even in London.
Some readers seem intent on nullifying the authority of David Simmonds. The critics are so intense; Simmonds is cast as more scoundrel than scamp. He is, in fact, a Canadian writer of much wit and wisdom. Simmonds writes strong prose, not infrequently laced with savage humour. He dissects, in a cheeky way, what some think sacrosanct. His wit refuses to allow the absurdities of life to move along, nicely, without comment. What Simmonds writes frightens some readers. He doesn't court the ineffectual. Those he scares off are the same ones that will not understand his writing. Satire is not for sissies. The wit of David Simmonds skewers societal vanities, the self-important and their follies as well as the madness of tyrants. He never targets the outcasts or the marginalised; when he goes for a jugular, its blood is blue. David Simmonds, by nurture, is a lawyer. By nature, he is a perceptive writer, with a gimlet eye, a superb folk singer, lyricist and composer. He believes quirkiness is universal; this is his focus and the base of his creativity. "If my humour hurts," says Simmonds,"it's after the stiletto comes out." He's an urban satirist on par with Pete Hamill and Mike Barnacle; the late Jimmy Breslin and Mike Rokyo and, increasingly, Dorothy Parker. He writes from and often about the village of Wellington, Ontario. Simmonds also writes for the Wellington "Times," in Wellington, Ontario.
More by David Simmonds:
Tell a Friend
Click above to tell a friend about this article.