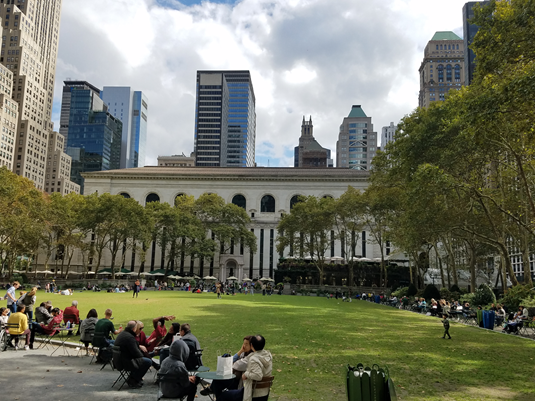 Bryant Park, Autumn in New York City, 2017. Photograph credit Matt Seinberg.
Once or twice, a year, Marcy, my wife, and I like to go into New York City to see a Broadway play. At Easter, we saw a British comedy called, The Play That Goes Wrong. It was very funny, if you can follow English humour.
---
This time, we wanted to see a musical.
---
This time we decided to see another musical, with the choices be Phantom of the Opera, which I had not seen but Marcy had, or Waitress, based on the Adrienne Shelly movie and the book by Jessie Nelson. Pop singer Sara Bareilles did the songs for the musical.
After checking a couple of websites, we decided on Waitress, for this past Saturday. We always pack a lunch to eat and we like to go to Bryant Park. The weather was nice and it's always interesting to people watch in that park.
By the time we finished lunch, we had about 45 minutes to get to the theater, so we took our time, walking through Times Square. That's always an adventure, because no matter the day or time, as people, native and tourist, alike, pack Times Square day and night.
We didn't have time to walk into stores, but seeing all the neon signs is always thrilling. There is nothing like Times Square anywhere else in the world. Watch the action in Times Square, in real time, on earthcam.com.
The Brooks Atkinson Theatre, where Waitress plays, is on West 47th Street, right in the heart of the theatre district. The Atkinson opened as the Mansfield Theatre, named for actor Richard Mansfield, in 1926. In 1960, the renaming was a tribute to the New York Times drama critic, Brooks Atkinson.
The Atkinson is an intimate theatre, with hardly a bad seat in the house. We were in the upper left mezzanine, with a great sight line to the stage. From this height, we could see everything going on.
---
Why, in Country Music, is the bad guy often called Earl?
---
The story, of Waitress, is of Jenna, a waiter and pie baker in a small Southern town. She discovers she is pregnant after a drunken night of sex, with her no good husband Earl. Why is Earl always a heel and cad? Even The Dixie Chicks sing of Earl.
Jenna learns of a pie baking contest and starts to save all her money to travel and enter the contest. Unfortunately, Earl finds her hidden money and uses it to gamble and drink.
When Jenna goes to her gynecologist, she expects to see the same woman who delivered her. She is surprised to find out her gynecologist is semi-retired, replaced by a young man, a new comer to town. They fall in lust and start a passionate affair, even though they are both married.
Becky and Dawn, friends and co-workers of Jenna, support her. As it turns out, Becky is also having an affair, with Cal the cook at the diner, where they work. Dawn is meeting Ogie, a fellow she met on an internet-dating site.
Yes, Dawn and Ogie meet; fall in love and get married.
Actor Jessie Mueller originated the stage role of Jenna. She moved on to star in "Beautiful," the biography of Carol King. Betsy Wolfe, the current star, replaced Mueller. At the performance we saw, Stephanie Torns, an Ensemble player, replaced Betsy Wolfe.
We didn't have any expectations from a star we with whom we were not familiar. Thus, it was no big deal, for us, an understudy was on for this show. From the opening number, I knew that Stephanie wasn't going to disappoint this audience. She has an amazing voice and even from our high seats, you could tell how much time and work she put into this role. She really was fantastic.
---
After the show, we had dinner.
---
We usually end with dinner in the city, but because the Long Island Railroad was only running trains on the hour, instead of every half hour, we decided to hit a restaurant across from the train station, on Long Island.
As I was in the mood for Italian food, this was the perfect place. I had Rigatoni ala vodka with meatballs, and Marcy had a slice of pizza and a salad. I had enough left over for dinner tonight.
We decided to see Phantom of the Opera in December. I can't wait. New York City can be most beautiful at the holiday season.