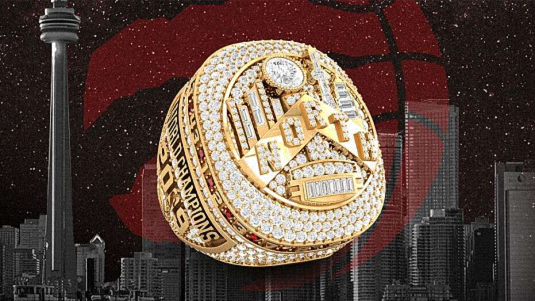 The Toronto Raptors, current champions of the National Basketball Association (NBA), wanted their championship rings to make a statement. In that, the Toronto Raptors succeeded. At their home opener, on 22 October 2019, the Raptors bestowed, on the 2018-2019 team, the most valuable rings ever made for a basketball champion.
---
What might most valuable ring mean?
---
Maple Leaf Sports and Entertainment, which owns the team, did not specify exactly what most valuable meant. One would hope most valuable means cherished and important, as a team outside the USA won the NBC Championship. As none of the rings has gone on the aftermarket, yet, most valuable probably means most expensive to produce.
Made of gold, each ring is set with some 640, yes, 640, diamonds, in a thematic order. Wrapped around the outside of a ring are the sixteen player uniform numbers in the winning lineup, separated by sixteen rubies. One side of each ring sets out the particular player by name and uniform number; inscribed on the other side are the words, "World Champions."
Inside the ring, there is personal message for each recipient, paired with a ruby centred maple leaf. The face of the ring has a representation of the championship trophy, the Air Canada Centre and the Toronto skyline, set among some seventy-four diamonds, equal to the number of season wins for the team. Six diamonds are mounted top the Air Canada Centre image to signify Toronto's self-appellation as the Six, along with a chevron design saying North, referring to the battle cry of the team, "We the North," and the uniform style they wore in their final game. The rings are very symbolic.
Each player also received a bottle of champagne, a presentation box and a ring cleaning kit; the latter a nice touch, considering a star player, such as Kyle Lowry, who sat on the design team, will only take home some $US33 million this year and cleaning kits can be expensive. Moreover, who has time to go out and buy a cleaning kit when you're playing basketball all over North America all year?
On top of the sixteen player rings, company employees received scaled back rings. Replica rings, with no diamonds, went to the 20,000 fans on hand. Drake did not get a special ring.
On the nothing-but-good-news front, the gold and diamonds used in the ring come from Canada, and the company that made the rings is from Windsor, Ontario. Its proposal for the production and design of the rings topped two American competitors. You can't beat that for national pride.
---
The rings are not without controversy.
---
To begin with, how do you wear your ring, which one writer described as colossal? The ring goes on the middle finger, which provides the best opportunity for balancing (sic). Its weight, up to 130 grams, is the equivalent to the weight of an adult male hamster. I looked it up; by the way, adult female hamsters are generally 20 grams heavier than males.
Would you want to play basketball wearing the ring? I don't think so. With that weight on board, it would become much more difficult to soar to a slam-dunk basket. With all the arms-in-the-face style of play that seems to be in vogue these days, wearing that ring would invite more fouls called against you, never mind tort claims filed against you. Even sporting the ring as everyday wear would cause one of the shoulders to droop precipitately, unless the wearer became fastidious at alternating the ring between left middle finger and right middle finger, which may only end up causing shoulder droop on both sides anyway.
Lowry did allow as how he was only going to wear his ring on special occasions. Given its diamond content, I think he would want to limit it still further to those special occasions unless accompanied by an armed security guard.
I wonder if his ostentatiousness is un-Canadian. Sure, it's par for the course for those gassy Americans to go overboard, but we in Canada are a little more restrained in our gloating, aren't we? Didn't we all celebrate already by bringing downtown Toronto to a standstill this past summer, in numbers that exceeded even those at a Grateful Dead tour date?
Even if the winning of the NBA championship can be compared in its historic significance to, say, John Lennon and Yoko Ono's bed-in in Montreal, exactly 50 years ago, wouldn't a souvenir photo montage on poster board be just as good, especially if it were made from recycled materials?
Does excessively fancy rings not send Canadians down a slippery slope? What happens, for example, if the Toronto Maple Leafs, also owned by Maple Leaf Sports and Entertainment, win the Stanley Cup, which hasn't happened since 1967? Will they have to come up with a 700-diamond ring that weighs as much as an adult female hamster? Will kids on teams winning minor sports championships now sneer at the fact that all they got for winning was a lousy plastic trophy from the local plaque shop, with no diamonds at all? Will Nobel Prize winners now start complaining that although it was nice to receive over a million dollars in prize money, it sure would have been nicer still to receive as well a 750-diamond champion's ring, even if they had to buy their own champagne and cleaning kits?
---
Am I sour grapes?
---
Maybe it's just sour grapes because they don't have championship rings for local media columnists. I guess I am giving the rings two middle fingers. I apologize to local hamsters, male or female, that are not flattered, as the weight of comparisons brings them into the discussion.
Some readers seem intent on nullifying the authority of David Simmonds. The critics are so intense; Simmonds is cast as more scoundrel than scamp. He is, in fact, a Canadian writer of much wit and wisdom. Simmonds writes strong prose, not infrequently laced with savage humour. He dissects, in a cheeky way, what some think sacrosanct. His wit refuses to allow the absurdities of life to move along, nicely, without comment. What Simmonds writes frightens some readers. He doesn't court the ineffectual. Those he scares off are the same ones that will not understand his writing. Satire is not for sissies. The wit of David Simmonds skewers societal vanities, the self-important and their follies as well as the madness of tyrants. He never targets the outcasts or the marginalised; when he goes for a jugular, its blood is blue. David Simmonds, by nurture, is a lawyer. By nature, he is a perceptive writer, with a gimlet eye, a superb folk singer, lyricist and composer. He believes quirkiness is universal; this is his focus and the base of his creativity. "If my humour hurts," says Simmonds,"it's after the stiletto comes out." He's an urban satirist on par with Pete Hamill and Mike Barnacle; the late Jimmy Breslin and Mike Rokyo and, increasingly, Dorothy Parker. He writes from and often about the village of Wellington, Ontario. Simmonds also writes for the Wellington "Times," in Wellington, Ontario.
More by David Simmonds:
Tell a Friend
Click above to tell a friend about this article.