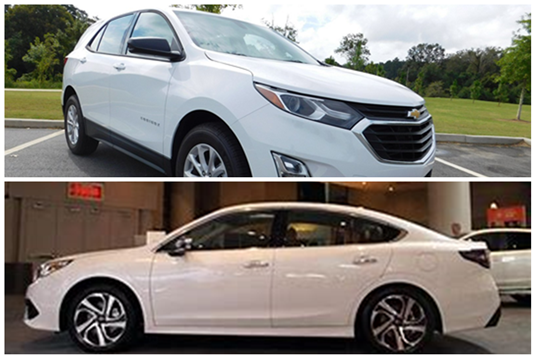 Top, 2020 Equinox SUV; bottom, 2020 Subaru Legacy sedan.
For any years I drove only sedans, two and four door models. The car that I enjoyed driving the most was my 1989 Ford Mustang GT with the 5.0-liter eight-cylinder engine. That car really flew, but was lousy in snow and rain because it being was front heavy with rear wheel drive.
The cars of my life.
After that, I had a 1996 Pontiac Grand AM, and a 2010 Mazda 6, which we still own and use. In 2018, I decided to get a Chevy Equinox on a lease, to see how I would like it. When my lease was up in July 2020, I decided to buy an Equinox this time, but got the upgraded model with the larger 2.0 Cadillac engine and what they call the Comfort and Convenience Package.
Evidently, I am not the only driver looking to drive an SUV. There are more SUVs and, by the way, trucks, sold, today, than sedans. Thus, General Motors and Ford are dropping sedans from their line-ups to concentrate on SUVS.
GM and Ford are handing the sedan market to Toyota, Hyundai, Kia and the other foreign manufacturers. My father had a Chevy Cruze Hatchback LT, which my daughter Michelle now has; she loves it.
Do you remember when Chrysler, Plymouth, Dodge came out in the 1980s with the family minivan? Collectively and with the K-cars, minivans saved Chrysler from going out of business. Now, they only sell the Chrysler Town and Country and a great many SUVs.
Chevrolet and GMC are basically the same vehicles distinguished only by different styling inside and out. GMC prices start higher because of the trim levels offered. They are the upgrades from Chevy, which is another way of Buick and Cadillac also offer their versions of some of them, but not the full line.
Chevy is sticking with the ever-sporty Corvette. Ford still has the Mustang. Dodge has the Charger and Challenger. All are names from the 1960s or earlier. Still, there nothing the same about them and their predecessors.
Warranty is important.
How is it that Hyundai and Kia (sister companies) based out of South Korea can design and build both cars and SUVs in styles and prices that Americans want to buy? One reason could be their 100,000-mile drive train warranty, which beats everyone else by a mile. Once the warranty is up on an American car, good luck in trying to get any sort of free service.
Let's not forget the sales aspect of all this. COVID-19 changed the way cars sell and it mostly helps the dealers, not the average customer. If you're buying over the internet, unless you do lots of research on prices, you will pay more.
Car buying services, such as True Car, give you a nice starting point, but there must be some sort of negotiating involved. Or not. Huh? What do I mean?
When I was looking for the 2020 Equinox, I gave the dealer I leased from the first shot and they failed miserably. Its former owner was a large company. Now, as a smaller company, it didn't have the scale, when it came to pricing, so its price-point were not nearly as good as before.
I was emailing back and forth with three different dealers. I finally found the vehicle I wanted. One of those dealers I e-mailed had the better price was by far.
Alas, the exact vehicle I wanted was still on order from Mexico and wouldn't arrive in time for me to turn in my leased truck. So, I went to the website, of this dealer, and found another truck in the same colour, same package, but with the bigger engine. Yes, it was more money, but came with more features that made it worthwhile to me; plus, the vehicle came from Canada and in stock.
There's a vehicle for everyone.
I went to the dealer, made the deal and had the car a few days later. Since then I've put on over 3400 miles and enjoyed most of them. No matter what you need to drive, something is out there that will fit your style, price and size. Do your homework and don't let any dealer bully you. If you don't like the price or service, walk away.