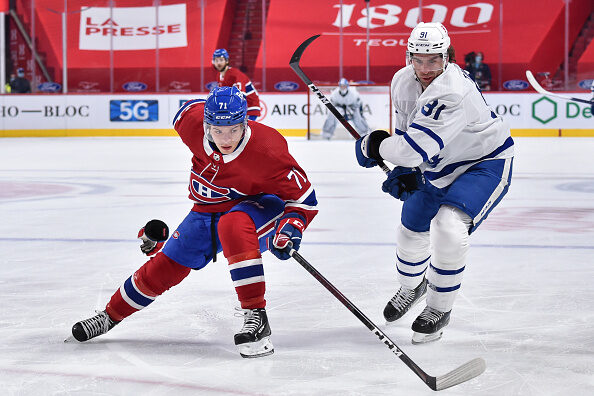 Source: lastwordonsports.com
It's merger season. Rogers is trying to take over Shaw. Air Canada was trying to take over Air Transat. Canadian Pacific Railway is trying to take over Kansas City Southern. Maybe it's just spring that's making these companies so frisky,
Consolidation in the NHL.
Whatever the reason, we're on the lookout for more impending mergers. We hear of one from an unlikely quarter, the National Hockey League (NHL), that's right, hockey. We hear the owners of the Montreal Canadiens and the owners of the Toronto Maple Leafs have been secretly putting their heads together and working up a merger plan; Bell Canada is the prime suspect in the move, as it owns a stake in both teams.
pWhy a merger now when for years the league has been focused on expansion of its franchisees, most recently in Las Vegas and Seattle? It largely has to do with the coronavirus crisis, one insider told us. Teams are finding it much less expensive to operate without fans in the stands.
Arenas can be more profitably employed as mass vaccination sites or torn down and rebuilt as single-family housing, for which people would gladly pay way over asking. Arena space is ripe for development. First went the downtown multiplex, now sports venues.
"Consolidating will strengthen us financially," said our source, whom we agreed not to name as he was not authorized to speak publicly about the matter. "With Covid-19, all the fans have bought 98-inch televisions, so they can see the game much better at home than they can in person. "They'll happily pay for all those extra charges that cable channels offer."
Of course, it's less expensive to run one management team and one group of hockey players with their coaches and groomers and other hangers on. Consolidation of sports teams in only the latest move. Every industry is consolidating.
"Quite apart from that, think of the potential for improvement in the quality of play. The bottom half of each team would be cut loose and, voila, you would have an instant Stanley Cup contender. If you added the points that both teams have the combined team would top the North Division by a whopping margin.
I'm sure I don't have to remind you that the Habs haven't won the Cup since 1993 and the Leafs haven't won it since 1967. Toronto fans have had to sit painfully and watch the Raptors, the Blue Jays and Toronto F.C. win championships. Habs fans haven't had anything to cheer about. Fans of both teams deserve a winner."
Can hockey teams merge?
Yet doesn't the history of each team demand that they never merge? You can't break up the Original Six. Surely the rivalry runs too deep. Doesn't Roch Carrier's The Hockey Sweater definitively demonstrate that the two sub-cultures, of the two club,s are like chalk and cheese?
"I prefer to see it as fruit and nuts," said our source. "Together you have something special. Besides, what good is a tradition when it hasn't done anything for you lately?"
What will the name of the combined team be? "We're still working on that," our source told us. "The Habileafs doesn't really zing for me," he admitted. "Still, we have a golden opportunity to correct one of the greatest grammatical errors in the history of sport.
A new name will signify that we have our eyes on the future rather than the past. Perhaps if we call the team the Confederators we can get a large federal grant for promoting national unity. In anticipation of your question as to what the new uniform might look like, we're working on one of those uniforms that displays a Habs or Leafs jersey depending on the angle you look at it from. Possibly solar powered."
As to the location of the combined team, our source told us that arenas roughly equidistant from Toronto and Montreal are being vetted ."Now that we play without fans, it doesn't have to be spacious. If the rent is cheap enough and the ice big enough, we'll play in Cornwall, Lachute, Kingston or even Wellington."
Why not Wellington. The country is deluged with visitors from Quebec every July when the playoffs are just starting. Visitors from Toronto are here, too.
If the merger of the Habs and Leafs starts to get serious, the NHL will have to start thinking on its skates. The merger may trigger a round of mergers, as other teams look to cash in on instant improvement. The two Alberta teams may join forces or, perhaps, they will try to pull off a four-way merger involving the Jets and the Canucks. American teams can't be too far off the puck; just consider Florida and Tampa, New York and New York, Boston and Hartford, Los Angeles and Anaheim and San Jose.
Chalk with cheese.
As more teams join the merger madness, all who do so will improve the quality of their play and increase their chances of taking home the Stanley Cup, as well as becoming more profitable. Seen from that perspective, putting chalk with cheese is a small price to pay.w

Some readers seem intent on nullifying the authority of David Simmonds. The critics are so intense; Simmonds is cast as more scoundrel than scamp. He is, in fact, a Canadian writer of much wit and wisdom. Simmonds writes strong prose, not infrequently laced with savage humour. He dissects, in a cheeky way, what some think sacrosanct. His wit refuses to allow the absurdities of life to move along, nicely, without comment. What Simmonds writes frightens some readers. He doesn't court the ineffectual. Those he scares off are the same ones that will not understand his writing. Satire is not for sissies. The wit of David Simmonds skewers societal vanities, the self-important and their follies as well as the madness of tyrants. He never targets the outcasts or the marginalised; when he goes for a jugular, its blood is blue. David Simmonds, by nurture, is a lawyer. By nature, he is a perceptive writer, with a gimlet eye, a superb folk singer, lyricist and composer. He believes quirkiness is universal; this is his focus and the base of his creativity. "If my humour hurts," says Simmonds,"it's after the stiletto comes out." He's an urban satirist on par with Pete Hamill and Mike Barnacle; the late Jimmy Breslin and Mike Rokyo and, increasingly, Dorothy Parker. He writes from and often about the village of Wellington, Ontario. Simmonds also writes for the Wellington "Times," in Wellington, Ontario.
More by David Simmonds:
Tell a Friend
Click above to tell a friend about this article.