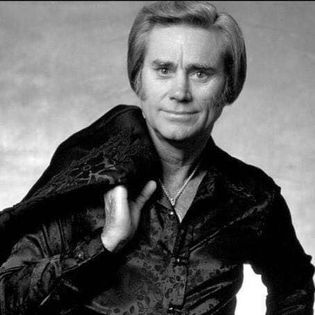 Source: George Jones FB Fan Page
I've always loved Country and Western music, up until roughly 1980, when it accelerated its slow slide into a derivative rock, combined with predictable lyrics drawn from the unholy trio of alcohol, trucks and loose women. What I love most is the ability, of Country and Western lyricists to paint a complete emotional picture in under three minutes. They are the Dashiell Hammett of popular music.
Perhaps the best Country and Western song, ever.
Today, I'm putting my money where my mouth is, looking at one of the best examples of Country and Western music. My example is "She Thinks I Still Care." It's a George Jones staple.
The song was written in 1962 by Royden Dickey Lipscomb, better know as Dickey Lee, and Stephen Duffy. It almost wasn't recorded, as Jones was not impressed. "… too many damn 'just becauses'," Jones is reputed to have said. His second instinct served him well: the song went number one hit and charted for twenty-three weeks.
Let's inspect the song, which consists of two verses, a bridge and then a final verse. Here's the first verse.
Just because I asked a friend about her
Just because I spoke her name somewhere
Just because I rang her number by mistake today
She thinks I still care
The first verse sets up the conceit of the song. His former partner got it wrong. She thinks he still cares about her.
Clue one: he asked a friend about her. Clue two: he spoke her name somewhere. Clue three: he rang her number by mistake.
These incidents are small enough to make it plausible that the misunderstanding is hers and he really doesn't care for her anymore. But an ambiguity arises: is he perhaps just projecting his own feelings on to her through his description of her reaction?
Here's verse two.
Just because I haunt the same old places
Where the memory of her lingers everywhere
Just because I'm not the happy guy I used to be
She thinks I still care
Verse two ups the stakes. The lyric begins to expose the flaws. His assertion, that he doesn't care for her anymore, wobbles.
He haunts the same old places. Her memory is everywhere. He's not happy anymore.
We are left with a picture of an emotional wreck of a man who can't bring himself, yet, to admit that he does still care for her. He blames it on her supposed misperception of him. Then comes the bridge.
But if she's happy thinking I still need her
Then let that silly notion bring her cheer
But how could she ever be so foolish
Oh where would she get such an idea
In the bridge, the emotional stakes are, again, raised. Jones purports to take pity on her, saying she is welcome to the delusion that he still cares. It's really an expression of self pity. He can't recognize the transparency of his feelings and criticizes her for being foolish instead.
Here's verse three.
Just because I asked a friend about her
Just because I spoke her name somewhere
Just because I saw her then went all to pieces
She thinks I still care
The first two lines of the verse return to the semi-reasonable opening verse of the song, which then reaches its climax with his admission that he "went all to pieces" when he saw her. He shows his "just because" protestations to be empty and himself to be a troubled character. He can't bring himself to admit how deeply he has felt about her.
That's a complicated mess of emotional baggage to throw into two minute and 37 second song. Still, it works. I'm not saying that "She Thinks I Still Care" is the best country song ever written. Almost anything by Hank Williams or the Louvin Brothers would rank high. Still, "She Thinks I Still Care" is a jewel.
May case is made.
Among those who have recorded the song and thus make my case for me are, among others, Anne Murray, Connie Francis, Del Shannon, Leon Russell, John Fogarty, James Taylor, Michael Nesmith, Glen Campbell, Merle Haggard, Elvis Presley, Bill Haley, Jerry Lee Lewis and Cher.
Some readers seem intent on nullifying the authority of David Simmonds. The critics are so intense; Simmonds is cast as more scoundrel than scamp. He is, in fact, a Canadian writer of much wit and wisdom. Simmonds writes strong prose, not infrequently laced with savage humour. He dissects, in a cheeky way, what some think sacrosanct. His wit refuses to allow the absurdities of life to move along, nicely, without comment. What Simmonds writes frightens some readers. He doesn't court the ineffectual. Those he scares off are the same ones that will not understand his writing. Satire is not for sissies. The wit of David Simmonds skewers societal vanities, the self-important and their follies as well as the madness of tyrants. He never targets the outcasts or the marginalised; when he goes for a jugular, its blood is blue. David Simmonds, by nurture, is a lawyer. By nature, he is a perceptive writer, with a gimlet eye, a superb folk singer, lyricist and composer. He believes quirkiness is universal; this is his focus and the base of his creativity. "If my humour hurts," says Simmonds,"it's after the stiletto comes out." He's an urban satirist on par with Pete Hamill and Mike Barnacle; the late Jimmy Breslin and Mike Rokyo and, increasingly, Dorothy Parker. He writes from and often about the village of Wellington, Ontario. Simmonds also writes for the Wellington "Times," in Wellington, Ontario.
More by David Simmonds:
Tell a Friend
Click above to tell a friend about this article.