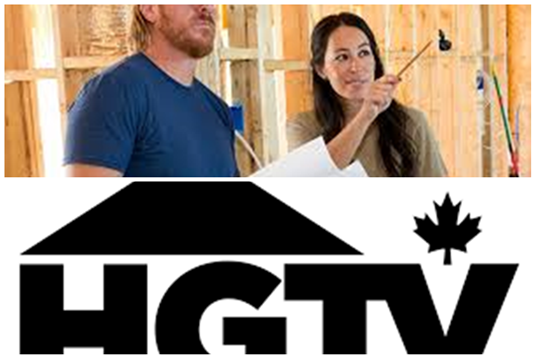 There comes a time when a man is ready to sink into his chair and watch television, mindlessly, on his own. If you ask a spouse familiar with his habits, she will probably say that time seems to arrive whenever there is a game of some sort on or, failing that, whenever a 24-hour news channel is broadcasting. I will not dignify that with a response.
---
When there is no high art tragedy on television.
---
There is also a time when a man is ready to sink into his chair and watch television, mindlessly, together with his wife. All of the spirited conversation regarding the positive aspects of the Donald Trump regime has been exhausted. There is no high art tragedy readily available to watch and sports and news are out of the question.
What do we, my wife and I, watch on television when we want to partake of our lowest common entertainment denominator together? We consult the myriad of home renovation shows on HGTV. That's Home and Garden, the magazine on television.
The premise behind the shows is always roughly the same. A couple is stuck in a hellhole with parquet floors, a single vanity ensuite or a kitchen that lacks a subway tile backsplash. A major renovation or a move is obviously is necessary.
Through the efforts of a valiant contractor or real estate agent, the couple makes it through the valley of "death by a thousand decisions" to a perfectly realised conclusion, which comes in roughly on time and around budget. Along the way, misadventures worthy of Don Quixote befall them, such as "That looks like water behind that drywall." "There's nothing holding that beam up." Yet, all obstacles fall to the expertise of one contractor or another, with a mandatory round of high fives.
An interview, done roughly a month after completion of the project, concludes the show, when any psychologist would agree the couple is still in justification mode, called dissonance reduction, and they gratefully, gleefully intone how this was the best decision they ever made as they have found their forever home. Unlike in real life, relations between expert and client never sour. If it does, the footage never makes it off the cutting room floor.
---
Home renovation shows are well packaged.
---
Home renovation shows are mini-dramas wrapped and packaged so the viewer never knows exactly what you are getting. You can look down on the protagonists and scold them for their profligacy; "Why did she have to tear out those perfectly serviceable white cupboards just to replace them with black ones?" Alternatively, you identify with their struggle and root for them; "Yes, good idea to take that wood-burning fireplace out of the basement." No matter what side you come down on, you are safe, removed from the combat zone and unable to spoil the outcome.
The shows depend heavily on the likability of the subject couple: they're the ones spending the money. They must be immune to the fact their domestic life and decision-making skills are under the scrutiny of the camera and audience. If this sounds like your cup of tea, there is a casting call out on the HGTV website for participation in the show "Love it or List it Vancouver." You must have the necessary resources to be fun and outgoing. The lineup forms to the right.
Earlier, I called the number of renovation shows a myriad. Indeed, I tip my hat to the ability of the HGTV programmers to come up with a twist on the formula by constantly adding new shows. If HGTV needs a new makeover show, here are a few ideas they might like.
What of a series, with an all-female renovation crew that caters to scratch and win lottery millionaires! What of a show focused on resale off-grid residences built for first time homebuyers? What of a show revolving around mid-life crises, couples might abandon Middle Canada for exotic Eastern European locales.
---
Monkeys at typewriters.
---
In fact, I wouldn't be surprised if computer algorithms or monkeys at typewriters generate some of the new show ideas, such as My Dream Flipper-Upper Caribbean Reno or My DIY Rehab Retreat. Whatever titles generated, the plots would continue to be predictable. That's precisely why my wife and I look forward to spending a great deal of low quality time together with HGTV. We're predictable, too.
Some readers seem intent on nullifying the authority of David Simmonds. The critics are so intense; Simmonds is cast as more scoundrel than scamp. He is, in fact, a Canadian writer of much wit and wisdom. Simmonds writes strong prose, not infrequently laced with savage humour. He dissects, in a cheeky way, what some think sacrosanct. His wit refuses to allow the absurdities of life to move along, nicely, without comment. What Simmonds writes frightens some readers. He doesn't court the ineffectual. Those he scares off are the same ones that will not understand his writing. Satire is not for sissies. The wit of David Simmonds skewers societal vanities, the self-important and their follies as well as the madness of tyrants. He never targets the outcasts or the marginalised; when he goes for a jugular, its blood is blue. David Simmonds, by nurture, is a lawyer. By nature, he is a perceptive writer, with a gimlet eye, a superb folk singer, lyricist and composer. He believes quirkiness is universal; this is his focus and the base of his creativity. "If my humour hurts," says Simmonds,"it's after the stiletto comes out." He's an urban satirist on par with Pete Hamill and Mike Barnacle; the late Jimmy Breslin and Mike Rokyo and, increasingly, Dorothy Parker. He writes from and often about the village of Wellington, Ontario. Simmonds also writes for the Wellington "Times," in Wellington, Ontario.
More by David Simmonds:
Tell a Friend
Click above to tell a friend about this article.