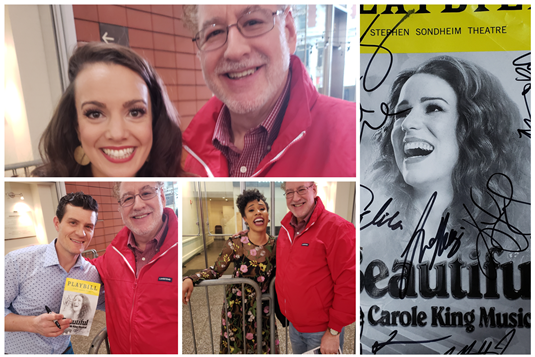 With Matt Seinberg are, top, Kara Lindsay, who plays Cynthia Weil;
lower left, Nathan Scherich who plays Don Kirshner and, middle bottom,
Salisha Thomas plays Lucille, of The Shirelles, and Little Eva
Every Easter Sunday, for the past few years, my wife and I go to see a Broadway show, in New York City. We both have the day off and always pray for good weather. This year we decided to see Beautiful, The Carole King Musical. Since we both grew up listening to her mega successful album Tapestry, we knew we would enjoy it.
• Auto Show and Beautiful.
I had free tickets to the New York International Auto Show, at the Javits Convention Center. We decided to take an earlier train and stay there for an hour or so. The show is so big that it can be overwhelming. I wanted to see the new Mustangs, Chevy Blazer and Dodge Challengers and Chargers. Yes, I love sports cars that go fast.
We walked around the Auto Show; took photographs and had lunched downstairs before heading out to the theatre on 43rd Street. It was only a nine-block walk. The day was absolutely Beautiful.
We got to the theatre at roughly 1:30 and got our tickets at the Will Call window. We're members of the Theatre Development Fund, which gives huge discounts to Broadway shows. Full price on our tickets are over $100 each; we got them for $49 each. Even with the membership fee of $39 yearly, it's worth it as long as we see at least two shows a year.
Sitting in the orchestra section is the best! I've had seats with my back against the wall in the upper level and you can hardly see a thing. Down in the orchestra, we can see pretty much all of the action.
The play starts with Carole King, age 17, and goes through age 29, when she recorded Tapestry, in 1971. It is still one of the most popular albums of all time. In fact, on the train ride home, I listened to the entire album from the digital version on my phone.
If you enjoy the music of the 1960s and 1970s, Beautiful is for you. Not only are the songs she sang featured, but songs such as Pleasant Valley Sunday, Locomotion and You've Lost That Lovin' Feeling, which Carole King did not write," are included. Did you know that Carole King was a prolific songwriter, with her former husband Gerry Goffin, working for Don Kirshner, in the legendary Brill Building, in Manhattan?
• She co-wrote a super hit with hubby.
Goffin and King wrote "Will You Still Love Me Tomorrow," recorded by The Shirelles in 1960. It went to number one on the Billboard Hot 100, almost immediately. Many stations, mostly in the America South, refused to air the record, arguing the lyrics too sexual. "Tomorrow," as it was originally titled, became the first number one hit by an all-girl Black group in the Rock Era, as Casey Kasem might put it.
I'm not a fanboy of Broadway Shows by any stretch of the imagination, but this time my wife and decided to wait outside the stage door and collect some autographs. The cast was very appreciative and willing to sign the Playbills; they all thanked us for coming. The only autograph we wanted, but didn't get, was from the actor that played Carole King, Sarah Bockel. We never saw her coming out, but we think we saw her going back in. It was so fast we didn't get a chance to say anything.
We did get autographs from the following cast members: Michelle Pawk who portrays Genie Klein; Salisha Thomas who portrays Little Eva and Lucille of the Shirelles; Kara Lindsay portrays Cynthia Weil; Nathan Scherich portrays music promoter Don Kirshner; Matt Faucher portrays Nick; Evan Todd portrays Gerry Goffin and Ben Jacoby portrays Barry Mann. There are several others, but I can't decode the signatures.
Did you know Cynthia Weil and Barry Mann, along with Phil Spector, wrote "You've Lost that Loving Feeling"? Did you know "Loving Feelin'" single originally released at over four minutes in length, which was unheard of the sixties; radio stations refused to play it. Ever creative, Spector reissued the single with a new label indicating the song ran for just under three minutes. Radio stations played it, not noticing the actual recording time had not changed, only the notice on the label. "You've Lost that Loving Feelin'" is the most played record on radio, ever.
My favourite cuts from Tapestry are "I Feel the Earth Move," "Smackwater Jack," "It's too Late" and, of course, "Beautiful."
• Meet the cast.
If you have the opportunity to see the show, do it. Wait the cast. Each one is amazing and happy to meet the audience!