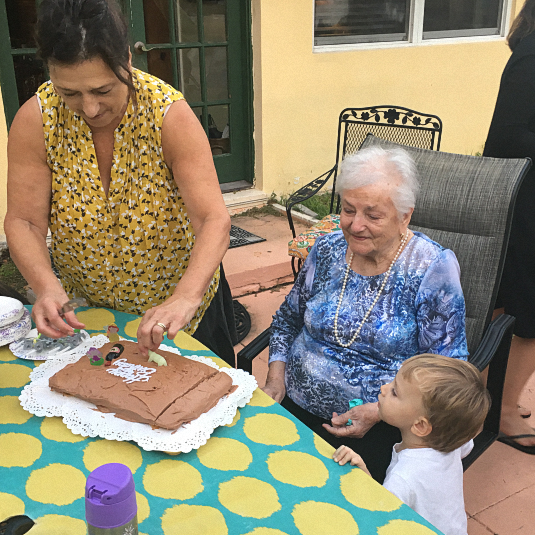 Mother's Day has always been a sore subject in our house. Our daughter, Alexa, was born the week after it. I got my Father's Day, but chance shortchanged my wife, Jo Ann, on Mother's Day.
► Making up for a day.
I told Jo Ann I would, at some future distant date, endeavor to expire a year before her so she could catch up. She was not amused. Neither was I.
This past Mother's Day was something quite special for us. My mom (above, centre) is ninety-three. She recently had a slight fall at her apartment as she was bringing some groceries in from the car and ended up with a broken foot. She's in a rehab centre so the physician can monitor her recovery, closely.
Mom's doing well, but we know the numbers. For elderly people, even a minor fall can do them in. It didn't help that mom is also depressed regarding her circumstances and her heart is getting progressively weaker. Thus, we, that is, my brothers, Greg and David, and me, decided to do something special for mom this Mother's Day.
The first step was getting together in Naples, Florida. Jo Ann and I got a hotel room in Punta Gorda. I took a day off from work to give us more time.
We drove down Friday, spent Saturday having a nice visit with mom and then came Sunday; the day, her day. Jo went to spend it with her mom in Port Charlotte. I drove down to mom's apartment to meet up with my brothers and then we called in our food order to a local restaurant.
We then headed over to see mom. The rehab center is quite nice; it has a formal dining hall and a small private one that they let us use. They even provided soda and coffee. Mom was weak and unable to walk, especially as she had a boot on her broken foot, but we used a wheelchair and were able to roll her into the room and up to the table.
► Mom was happy.
We ate, we chatted, we reminisced about adventures of our past, which, of course, meant talking about Martha's Vineyard. After all, the Vineyard has featured quite prominently in our family history. Mom laughed and didn't cry, which made us all very happy.
Mom wasn't able to eat much, but that wasn't what was important that day. We even had some small pieces of red velvet cake. She also couldn't eat it, but it still didn't matter, she was happy.
Going back to her room, she sat in her chair, a lift recliner, which was perfect for her. In her room, we sat and chatted some more. It was a quiet day, nothing very special and only mom and three of her boys, but none of those little details meant a thing. Sitting there, talking, I saw just how old mom had become.
Granted, at ninety-three years of age, she is old, but mom has always had a great deal of strength, resolve and good old fashioned gumption. I see those fading within her and, with that diminishment, I see her entering the twilight of her life. That is something no child is prepared for to acknowledge.
Back at her apartment, before going to come see her for lunch, my brothers and I discussed her future. Although it's likely she'll be able to come home soon, there is the issue of her living alone. A visiting nurse can come in a few days a week for a couple months, but what about beyond that, what. What of her overall health; will she decline rapidly, now?
► How many more special days for mom?
How much time does she have? How many more Mother's Days will we be able to celebrate? This one was very special and I'm glad my brothers and I were able to build a little memory from our time together.
Combining the gimlet-eye of Philip Roth with the precisive mind of Lionel Trilling, AJ Robinson writes about what goes bump in the mind, of 21st century adults. Raised in Boston, with summers on Martha's Vineyard, AJ now lives in Florida. Working, again, as an engineeer, after years out of the field due to 2009 recession and slow recovery, Robinson finds time to write. His liberal, note the small "l," sensibilities often lead to bouts of righteous indignation, well focused and true. His teen vampire adventure novel, "Vampire Vendetta," will publish in 2020. Robinson continues to write books, screenplays and teleplays and keeps hoping for that big break.
More by AJ Robinson:
Tell a Friend
Click above to tell a friend about this article.