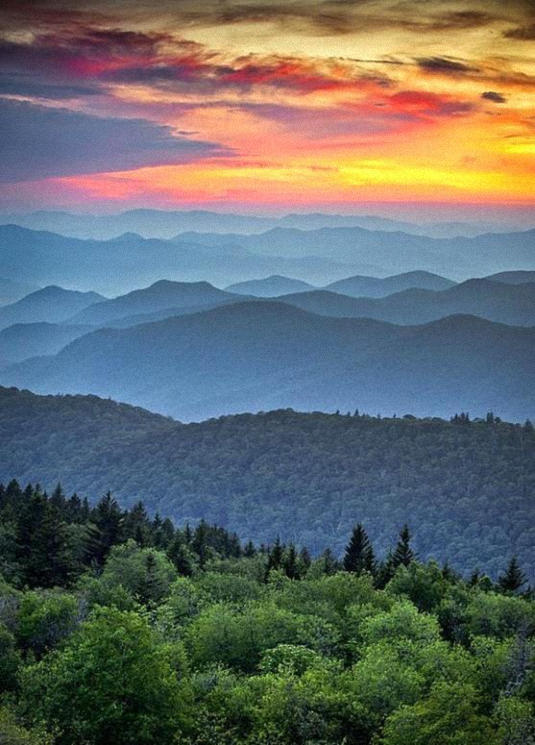 "Dark and dusty, painted on the sky."*
We took our summer vacation, recently. It was different from what we usually do. We, again, went camping in a nice little cabin, but this year, the arrangements were not as in years past.
---
We vacationed in the mountains of northern Georgie.
---
This was our first time in the mountains of northern Georgia. It was awesome. "Life is old there, older than the trees," to borrow a John Denver lyric; "Younger than the mountains, growing like a breeze."*
Jo Ann found the cabin online. We talked to several of our friends regarding coming with us. We lined up our friends MJ and Brian along with their foster daughter Rachel and Millie; the grandmother of our foster son Damian and our friend, Pat, also came along.
You see, the available cabins were not your typical camping cabins. In 2018, the cabin we rented, on Martha's Vineyard, was a tiny one-room place, with only a couple beds. In the mountains of Georgia were large cabins, with multiple bedrooms and bathrooms, a hot tub, fire pit, full kitchen and even Wi-Fi. It is a civilized way to camp.
It took two cars to hold everything. What did that matter? These days, between cell phones and GPS, we were able to stay in touch and make the journey.
It was a rather long expedition, roughly ten hours on paper. On our phones, the maps didn't make the trek seem as long as it turned out. The problem was the phone-map was not 3-dimensional.
Once in northern Georgia, the land became mountainous. Up one side of a peak and down the other we went. The hills were quite steep.
Then we finally found the access road to the actual cabins. It wove and meandered through the dense woods; again, we were thankful for GPS. We past many nice cabins, eventually coming to our driveway; it was a shock.
---
The driveway was at a forty-five degree angle.
---
As a civil engineer that often works on residential developments in Central Florida, I typically see slopes of anywhere from one-percent to maybe five or even, in an extreme case, nearly ten-percent. This drive, I would say conservatively was at least a forty-five-degree angle. Our driveway was steep.
Talk of a sharp angle. We did make it to the top, parked and got inside the lovely cabin. It was wonderful; hardwood floors and knotty pine walls, large beds, nice bathrooms, a great kitchen and a view of the rolling hills of the Georgia countryside that was remarkable.
Who could ask for more? We stayed there just short of a week. We drifted down a cool river, visited an apple orchard, took an old-fashion train ride to Tennessee and saw Helen, Georgia, a place with a true German heritage to it, with our goddaughters, Hayley and Jessica.
More importantly, we gave our foster kids some great memories. They engaged in activities they'd never even heard of before and that, quite honestly, are too much to encompass in a single tale. I have a feeling it's going to take me a while to relate all of our antics and fun. That's what tells me we had a good time. When your memories of a place overflow to the point you have trouble condensing them in a brief synopsis, you must have had a grand adventure.
At the end of our stay, the place cleaned up, bags packed, cars full; we were sorry to leave, but not sad. The fact I was actually looking forward to getting back to work was the clearest sign of a well-spent vacation. We plunged down that drive a final time, filled our bellies and gas tanks at the local gas station and hit the road for the, ugh, long hard drive home.
---
A damn good vacation.
---
The only part of the trip I would like to change is the long and winding road home. The worst I thought of this vacation is it took too long to arrive. If that's the worst I can say, I'd call it a good vacation. I know one thing for sure: it was a great time for Rachel and Damian. To give them those memories I'd endure a few uncomfortable hours in the car any day.
*Songwriters: Bill Danoff, John Denver, Taffy Nivert Danoff (c) BMG Rights Management