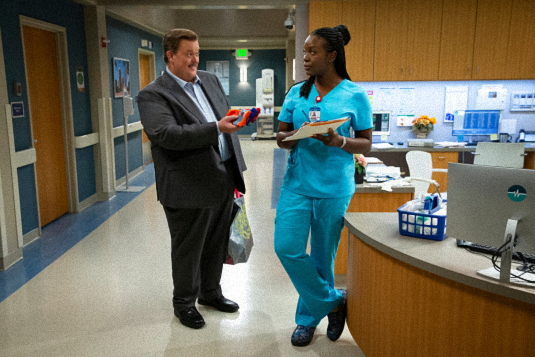 Billy Gardener and Folake Olowofoyeku in Bob Loves Abishola .
Here we are, again, my favourite time of year, the fall. I love the change to cooler weather and the premier of the new television shows on the broadcast networks. I don't really think of cable and streaming, simply for the reason they don't adhere to the same rules the over the air networks do.
---
First the comedies.
---
This year, I'm just going to do it by the new shows that interest me, not by day or network. After all, this is my column, so I get to do what I want. Let's start with the comedies.
Carol's Second Act stars our favourite sitcom mother, Patricia Heaton. Her last two shows The Middle and Everybody Loves Raymond were long running hits for ABC and CBS. Now she's back on CBS playing 50-year-old Carol Kenney, who recently graduated from medical school and is starting a new job as a hospital intern. What could possibly go wrong? Carol's Second Act premieres 26 September at 9:30 pm on CBS.
Bob Loves Abishola stars comedian Billy Gardell and newcomer Folake Olowofoyeku, as a cardiac patient and his prim and proper nurse, respectively. Gardell is the funny compression-sock sales person and Olowofoyeku the Nigerian nurse that takes care of him, in the hospital. After Mike and Molly ended its run, Gardell needed a new vehicle for his sly humor and Chuck Lorre and Eddie Gorodetsky provide it. Catch Bob Loves Abishola starting 23 September at 8:30 pm on CBS.
Perfect Harmony has Anna Camp as a single mom, Ginny. Bradley Whitford is a recently widowed Arthur, who stumbles in the church while a choir rehearsal is in progress. Somehow, the down on his luck music professor becomes involved helping the choir get ready for a competition. The premise seems good for one season or less. The premiere for Perfect Harmony is 26 September at 8:30 pm on NBC.
Sunnyside stars the funny and hilarious Kal Pen. You may remember him from Harold and Kumar Go to White Castle and Designated Survivor. I think this a take-off of former New York State Congressman Anthony Wiener, but without the lewd pictures. Pen plays New City Councilman, Garrett Modi, who was involved in a political scandal. He now survives by tutoring a diverse group of residents of Queens, New York, prepare for the US Citizenship test. Sunnyside premieres on 26 September 26 9:30 pm on NBC.
The Unicorn is the show I'm looking forward to most. It stars Walter Goggins, as widower Wade Felton; he lost his wife a year ago. Goggins is still living off frozen food given to him and his two daughters from his friends and neighbours. Everybody thinks it's time Walter gets out into the dating world. Since he is a rare catch, widower, straight with kids, he is the elusive unicorn. Let's see how his first date pans out. The show premieres 26 September at 8:30p, on CBS.
Kids Say the Darndest Things, hosted by Tiffany Haddish, is a reboot of the Art Linkletter radio and television classic. What do kids really think of things in today's world? Catch it Sunday 6 October at 8 pm on ABC.
---
Let's look at the dramas.
---
Bluff City Law is the return of Jimmy Smits to network television as civil rights attorney Elijah Strait. He has his own law firm in Memphis, where his daughter Sydney, portrayed by Caitlin McGee, returns to work after the sudden death of her mother. Smits has a public persona that is a high standard, yet his private life is flawed; ho hum. Tune in Monday 23 September at 10 pm on NBC.
All Rise stars Simone Missick as new appointed judge Lola Carmichael. Why does she look so familiar? She played a cop on "Luke Cage" for three seasons. In All Rise," she plays a judge who sees the person first and the crime second. See it 23 September at 9 pm on CBS.
Stumptown stars Cobie Smulders as Dex Parios, a Portland, Oregon, private eye. You may remember her from How I Met Your Mother and several Marvel Avenger movies. I always thought the nickname, of Portland, was The Rose City? It premieres 25 September at 10 pm on ABC.
Almost Familyy stars Timothy Hutton and Brittany Snow. He's a fertility doctor that impregnated many women with his own sperm. The premise, for the show, comes from the news, today, and might be good for a season or so. We get to watch as his adult "babies crawl out of the woodwork" to discover what happened. Catch the birth, of Almost Family, on 2 October at 9 pm on Fox.
Evil examines why people are wicked. It stars Mike Colter, formerly of Luke Cage, as David Acosta; he's training to become a priest and finds much adventure in that. Katja Herbers co-stars as psychologist Kristen Bochard. Look at them as a modern day Mulder and Scully. Their job is to investigate the backlog of unexplained mysteries for the Catholic Church. Evil premieres 26 September at 9pm on CBS.
Batwoman is the highly anticipated show from DC that takes over where Gotham left off, but several years later. Ruby Rose takes on the character of Kate Kane qua Batwoman, who is cousin to Batman. Watch for all the twists and turns. It premieres 6 October at 8pm on The CW.
---
Have I been wrong before?
---
I plan to watch these shows as they premiere. I think and hope each will become a new hit on the networks. Have I been wrong before? Yes, but that's the fun: will I be right. Yeah, for autumn, the birthing season of new television shows.