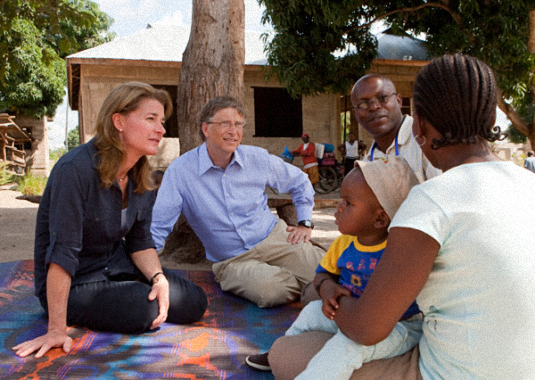 I never gave Bill Gates much thought until I heard his wife, Melinda Gates, interviewed on the radio earlier this year. The interview prompted me to read her 2019 book The Moment of Lift. The book led me to watch the three part documentary series, available on Netflix, entitled Inside Bill's Brain.
---
The Bill and Melinda Gates Foundation.
---
Bill Gates is founder and former chief executive office of Microsoft. He gave up corporate life for the Bill and Melinda Gates Foundation, which, according to one estimate, he seeded with at least $45 billion and received a pledge from his bridge partner, 89 year old Warren Buffett, for another $37 billion. The Foundation has and will continue to have a great deal of money to give away.
Gates retains a sizeable fortune, stuffed in his pockets. He has over $100 billion, by some counts. He has even more if he converts it to Canadian funds.
The Bill and Melinda Gates Foundation asserts its core belief is "all lives have equal value" and styles itself as a group of "impatient optimists working to reduce inequity." The Foundation seeks to eradicate poverty by improving access to health care and education as well as delivering the latest technological innovations to those with the greatest need for it.
All of this seems good, but is Gates just another billionaire with a vanity project or is he making a difference? The interview, book and documentary, superficial sources, it's true, but enough for this column, have me believing Bill and Melinda are going at their business in a disciplined fashion and doing much good.
The documentary tries to do three things simultaneously, which requires some patience on the part of the viewer. First, it looks at Bill Gates, the person and his abilities; for example, to drill down and concentrate on technical detail, to recall detail easily, to face obstacles squarely and to come up with the big picture idea. Yet, the documentary never analyzes his brain in a forensic sense; viewers must conclude it's just like their brain, only better. Second, the film covers the history of Microsoft in a cursory way. Third, each episode looks at a particular Gates project: the toilet project, the polio project and the nuclear project.
---
The Gates Foundation projects.
---
The toilet project recognizes how many thousands of deaths are preventable if people don't come into close contact with human waste or suffer from diarrhea. This entailed designing a brand new form of toilet, usable in places where there are no sewage systems. They did it, albeit not as cost effectively as hoped.
The polio project attempted to eradicate polio by immunizing vast parts of Africa. They came close to their goal, after having to make satellite maps of every remote settlement in Uganda in order to ensure they overlooked no one. Outright eradication remains elusive.
The nuclear project began after Bill Gates concluded nuclear power plant design suffered from slide-rule-era technologies and better technology would make nuclear power more attractive as a fossil fuel alternative. He assembled a team that came up with a "travelling wave reactor," which radically reduces the risk of meltdown and the length and amount of waste storage. His company signed a deal with the Chinese government to develop a prototype, but it conflicted with US technology protection policy and the project is on the sideline.
Then there's Melinda Gates. In her book, she describes how she had to reconcile her Catholic faith with the support of contraception as a means for women to improve their lot. She shows much determination to understand, without worrying that her hands get dirty, why and how assistance sometimes works and sometimes doesn't. She makes a strong case for the empowerment of women as the key to reducing inequity and lifting living standards. Melinda Gates shows she can stand up to her husband and bring more equality into their relationship; they are co-chairs of the Foundation, which bears both their names.
---
What are we to make of the Gates?
---
Could governments do a better job with the same resources? Ms Gates makes the case there is always a role for private funders, because they are freer to take risks with their monetary grants, thereby opening up the prospects of higher rewards and paving the way for government assistance that is more certain of success.
Some billionaires, such as Donald Trump, would scoff at the Gates Foundation philosophy that all lives are of equal value and it will take a mighty effort to overcome inequity in the world, particularly the inequity of the place of birth. Trump would settle for "Make America Great Again…and forget about everyone else." I prefer the Gates philosophy. I see nothing wrong with hatching big plans to deal with big problems and we need impatient optimists.
I don't want to let the Gates off the hook, scot-free. Even without Foundation assets, they are sitting on at least $100 billion, an amount that just keeps growing. That is a powerful argument for a wealth tax. I'm patiently pessimistic. We'll ever see such a tax.
Some readers seem intent on nullifying the authority of David Simmonds. The critics are so intense; Simmonds is cast as more scoundrel than scamp. He is, in fact, a Canadian writer of much wit and wisdom. Simmonds writes strong prose, not infrequently laced with savage humour. He dissects, in a cheeky way, what some think sacrosanct. His wit refuses to allow the absurdities of life to move along, nicely, without comment. What Simmonds writes frightens some readers. He doesn't court the ineffectual. Those he scares off are the same ones that will not understand his writing. Satire is not for sissies. The wit of David Simmonds skewers societal vanities, the self-important and their follies as well as the madness of tyrants. He never targets the outcasts or the marginalised; when he goes for a jugular, its blood is blue. David Simmonds, by nurture, is a lawyer. By nature, he is a perceptive writer, with a gimlet eye, a superb folk singer, lyricist and composer. He believes quirkiness is universal; this is his focus and the base of his creativity. "If my humour hurts," says Simmonds,"it's after the stiletto comes out." He's an urban satirist on par with Pete Hamill and Mike Barnacle; the late Jimmy Breslin and Mike Rokyo and, increasingly, Dorothy Parker. He writes from and often about the village of Wellington, Ontario. Simmonds also writes for the Wellington "Times," in Wellington, Ontario.
More by David Simmonds:
Tell a Friend
Click above to tell a friend about this article.