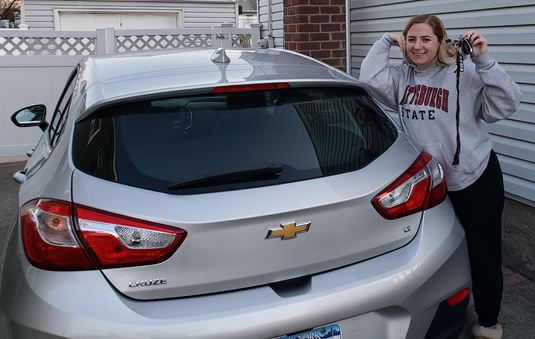 In June of 2019, my 90-year-old father, Shelly, moved from Syracuse, New York, where he has lived for over thirty years, to live with us on Long Island. This was possible because my oldest daughter, Michelle moved out to live with her boyfriend in the Albany, NY area.
---
Problem solved.
---
For more than a year, we, my father and I, talked of his move; the only thing holding it up was lack of room. That problem resolved when Michelle announced that she was moving out after graduating from college.
The planning began, in earnest. His apartment building in Syracuse had been going downhill for a long time. The original owners died; the building was sold a couple of times. The latest owners brought in many people from various social programmes who were contributing to a less than desirable element.
Combine that with ever increasing rents and fees and it was becoming a bad situation for people on fixed incomes, like Dad. I flew to Syracuse last June and got to spend some time with the radio friends I made over the years at Inner Harbor Broadcasting, Cumulus and Galaxy Media.
We drove back to Long Island. I had a good pre-planned route. I had my father drive the first leg out of the city and I took over roughly an hour after that. Somehow around Binghamton, we missed an exit and instead of going towards the Tappan Zee Bridge, we ended up on the George Washington Bridge and the dreaded Cross Bronx Expressway. I really hate that route.
Mistake number two was letting Dad drive this part of the way. I should have taken over, but I was so tired I didn't think it was a good idea. Lesson learned, though.
Dad has a 2017 Chevrolet Cruze, with roughly twenty thousand miles on it. It's in great condition. There were some minor scratches from some malicious idiot, in Syracuse, that keyed it.
The first week that Dad was here, he got lost. I was able to find him through OnStar. I told him if he got lost, again, he was going to be grounded for a week. He just shook his head.
---
Fast forward to February of 202
---
The health of my father has not been the best; we had a frank talk about him not driving anymore. This would put a burden on me, my wife, daughter and father-in-law to take my father to his appointments and such. Yet, it was the only alternative to keep him, and the rest of the driving public safe.
When I mentioned this to Michelle, she said she wanted the car; she would sell her 2000 Toyota Camry, which she got from her grandmother. It only has eighty thousand miles on it, which is low for a 20-year-old car. We figured she could sell it for around $2000-2500. She ended up selling it for $2300, which she is going to put towards the tax on the Cruze and the loan she took out for it.
By Michelle taking over the Cruz, the burden was off me to sell it down here, spending time waiting for prospective buyers that may or may not show up.
Here comes the fun part. Dad and I called GM Financial and took care of paying off the car and getting the various paperwork we needed. We asked about the title and were told it would be sent electronically to the NYS DMV.
Guess what? It didn't happen. When Dad, Michelle and I went to the DMV last week, we had all the paperwork except the title. Michelle had to fill out a form to get the new title and it would come to us. Then Dad must sign it, too, and we it to her.
In the meantime, she's driving the car with his plates and insurance. Once she gets the new title, she can go to her local DMV, with all the paperwork, and put it in her name. After that happens, we can cancel the car insurance. We figured that Dad would be saving between $500 and $600 a month by not having a car. For a senior citizen, that's a substantial savings.
---
It was a wonderful day in the neighbourhood.
---
Michelle got a new old car and she's thrilled. We're happy that it stayed in the family. It's a much safer car for Michelle to drive.