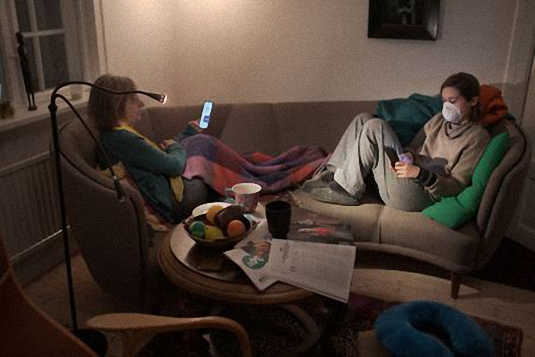 My last day of work was 20 March. It's now the 49th of March, At least that's what it feels like.
---
Is it only four weeks?
---
It's 19 April 2020. It as if I've been home much longer than four weeks. New York State is on pause until at least 15 May, but I think it's going to be longer.
With my history of upper respiratory infections, I thought I would get Covid-19. I was at the hospital every day to visit dad and, although, it didn't have many covid-19 cases, at that time, I was lucky I didn't catch anything.
Did I mention how much I hate visiting hospitals? The smells alone make me uncomfortable and slightly nauseous. Going into a hospital makes me sick.
After dad went to rehab, I was only able to visit him twice before the governor restricted visitors to nursing homes and assisted living facilities. I made it through all that without catching anything, as of this moment. Knock on wood. Time will tell.
Melissa, my younger daughter, contracted Covid-19 at the end of March. She works at a local Dunkin Donuts and I warned her not to go to work. Of course, that's where she got it.
Se went crazy, having to stay in her room. She was tired. She was nauseous. She lost her sense of smell and taste.
Melissa had gone on a walk to a pediatric urgent care facility, where she tested, not only for Covid-19, but strep throat, as well. The strep test was positive; she got an antibiotic, which gave her a very upset stomach. She then needed a probiotic.
Three days later, the nurse called to tell her she tested positive for Covid-19. She was obviously upset and had to quarantine for two weeks, minimum. Her quarantine ended Friday 17 April, when the Nassau Country Department of Health called to check on her. Now, Melissa is just another statistic of the pandemic.
Yet, as they say on television news, "Wait, there's more!" My wife Marcy wasn't feeling to well starting 12 April. She was nauseas, had a headache and some body aches.
Was this Covid-19, a bad cold or was it the flu? She also lost her sense of smell and taste, which is now coming back. Perhaps she had a mild case of Covid-19 is there such an ailment?
The one thing we've tried to do is go out for a thirty-minute walk, at least once a day. I've seen some neighbours I haven't seen in at least a year; it was nice to catch up with them. I met a neighbour that lives at the corner and has lived here for three years, but I've not spoken to before for reasons I don't know. She has two young boys that like to play in the front yard; it was nice to stop and chat for a few minutes.
The other things I've been working on are some cassette airchecks that my friend Fast Jimi Roberts, formerly of WPLJ-FM, WLIF-FM and WWMX-FM sent me last year. Jimi has had a nice long radio career that ended in December when Entercom let him go; sad. That was their first round of layoffs, which had nothing to do with Covid-19.
---
A life and career in a box.
---
Jimi literally sent me his career in a box. He had no idea what as to the content of these tapes. It was what I called a treasure hunt.
Many tapes had no label. Others had labels that had nothing to do with what was on the tape. It's a hunt for recorded treasure, that's for sure.
Jimi had a habit of reusing tapes given to him. He'd record his own air check over something else. Those included tapes from Major Market Airchecks of Kansas City, MO, The Aircheck Factory of Chicago, IL; California Airchecks and Programmer's Digest from Nashville, TN. I was looking forward to hearing these and disappointed when they weren't complete or totally recorded over.
The other hobby that takes some of my time is my electric HO slot cars. I'll try them out and, if they don't run, I'll take them apart and tune them up until they run, again. With well over 300 cars, this can be a time-consuming chore. I start with recent acquisitions and work backwards.
When I picked up the remains of my father, last Wednesday, 15 April, I got to meet the funeral director I had spoken to on the phone. He was such a nice man. Although I hope I don't have to see him for a long time, he's the guy I would recommend to anyone.
As I now had the death certificate, I could mail and e-mail letters to various places that dad owed money. Then I had many phone calls to make on behalf of dad; nothing done in person, all by phone. Calls included The Hartford where dad had a small life insurance policy from a former employer. The two women I dealt with there were terrific and very helpful and friendly.
Then I had to call a department of the Veterans Administration that handles burials and interments. We have two national cemeteries on Long Island. The first is in Farmingdale, which is about fifteen minutes from us, but it's closed to most burials. It does have space for cremains in one of their buildings; that's where dad is getting his new apartment.
The gentleman I spoke to at Farmingdale, Claude, is a Navy veteran. He received my paperwork, which I did on-line the day before, and was going to call me on Friday, 17 April, but I got to him first. Claude explained the process and told me that when life and the economy open again. I can call and arrange for a full Air Force honors funeral with a flag. I know that dad will appreciate that.
I'm going to say that about ninety per cent of the people I spoke to after dad passed away were unbelievable in their service. There were only a couple that were what I would call cold. They were perfunctory, not caring about how I felt in my time of grief.
The lousy part of being home is having to much time to think. It's easy to wrap one's self in sad thoughts and have a wave of dysphoria roll over me. I try to shake myself out of that and on to other matters.
Luckily, I get to talk to my older Michelle every day. We support each other, and know how the other feels. She misses dad as much, if not more than I do.
---
Stay safe and be strong.
---
While life will never return to normal, as we knew it, there will be a new normal that may us better. Hopefully, the world a better place to live. If not better, than no worse than before the pandemic.