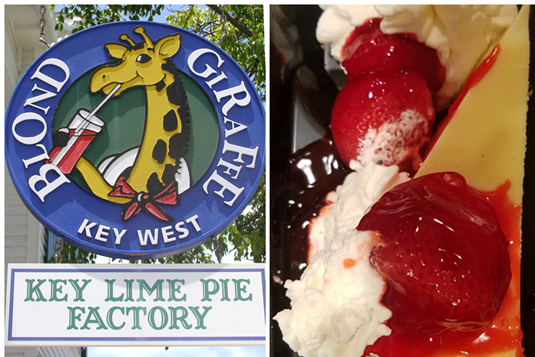 After all the stories about politics in the last month, I swore my next article would be light, fluffy and delicious. What might fit that description? What could be more fitting than cheesecake?
---
Cheesecake on steroids.
---
More cheesecake recipes abound than you can count. Did you know that Key Lime Pie found in Key West is really cheesecake on key lime steroids? Those limes infuse such a mouth-watering flavor and lip puckering that one piece is never enough.
Sure you can get key-lime juice, but it has to be authentic and from Key West and not South America. When my wife and I were on vacation, a number of years ago, we stopped at one of the many key lime pie shops, in Key West, and had a couple of slices. We found a place called The Blonde Giraffe, which bills itself as the original key lime pie factory. Just walking in and smelling those wonderful pies sitting behind the counter made my mouth water.
My wife and I each had a piece of that heavenly pie. I savored every bite. I was sad when it was gone. If I had my way, I would have bought and entire pie and brought it back on the cruise ship with me to enjoy for the rest of the trip. My wife quickly nixed that idea. Ugh.
Since we were in Key West for only a short time, we didn't get the chance to have another meal or pie. It was so hot one day it felt like the pavement was melting beneath our feet. At some point, we got bottled water from Walgreens and decided it was time to head back to the ship.
Key West Lime Pie is big business. For the 14 April 2014 episode, business-guru, Marcus Lemonis, took his CNBC show, The Profit, to Key West to help the owners, of the Key West Key Lime Pie Company, Jim Brush and Alison Sloat, set their path right. Subsequently, the Company, bought for $1200, now has sales of $1.5 million dollars a year and, in 2014, its hallmark pie was the best pie in the USA.
---
Homemade cheese is good but different.
---
My wife has made cheesecake here at home, but it's just not the same. No matter how closely she follows a recipe, it just doesn't turn out the same as in Key West. When Michelle, my daughter, goes to Key West, in January, maybe she'll being me back a pie.
Last year, one of my co-workers got it in her head that she was going to buy a variety cheesecake from The Cheesecake Factory and bring it to work. She asked me what I would like. After thinking for about 13 seconds, I asked for the red velvet cheesecake. If you have never had it, don't knock it. The blend of cocoa goodness with the smoothness of the filling is enough to put you in cheesecake heaven and raise the blood sugar to ridiculous levels. I think I had about half of it and brought the rest home.
At a family dinner many years ago, a cousin that was an expert pastry chef made a caramel turtle cheesecake. Oh my god, it was unbelievable. It was so good that I blurted out, "This is better than sex"
There was dead silence at the table. My wife gave me a dirty look. Her cousin, the pastry chef, shook her head and said thank you. Everyone went back to eating.
Today, my wife went to lunch, with a friend of ours, to The Cheesecake Factory. I didn't know that until I got a text asking what was my favourite cheesecake. I replied strawberry, not knowing that I was soon going to savour a little slice of heaven.
My friend bought me that slice and I will thank her after I have it. Of course, Melissa, my other daughter, asked for a nice fork full before I even opened it; my wife wants some, too, and she doesn't even like strawberries. Go figure.
---
We all scream for cheesecake.
---
It just shows that everyone loves cheesecake. Unless, of course, it's a funky flavor, such as root berry raspberry banana melt, it will be eaten anywhere, anytime, by anyone. So thank you, friend Selena, for thinking of me. You're the best.