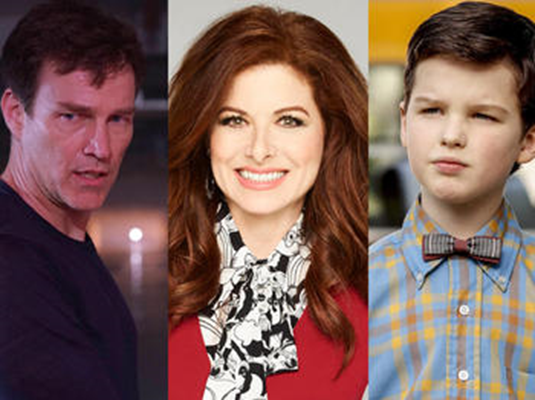 I always look forward to the new television season with anticipation. Admittedly, though, the last few years haven't had that many new shows as ten or twenty years ago. The years of those great Steven Bochco dramas are long gone, replaced by the soap operas of Shonda Rimes.
This year, I'm going to do a simple thumb up or thumb down for a review. These are my own opinions based upon whether I like a show or not. I get no input from my family or listen to opinions from other sources.
As well, my review, of the new television season, comes in two parts. This week is part one. Part two, of the review, includes shows not covered this week simply because I don't spend every moment in front of the television, though sometimes it feels that way.
---
Let's start with Monday nights.
---
Me, Myself and I, on CBS-TV, is the story of inventor, Alex Riley, over a fifty-year span; starting when he is fourteen, moving on to him at forty and at sixty-five years of age. Three different actors portray Riley, at three different stages in his life. Jack Dylan Grazer, who is the best out of the three, plays 14-year-old Alex. The trials and tribulations of being a nerd teenager shine through form his performance. Bobby Moynihan portrays the 40-year-old Alex Riley. Moynihan left Saturday Night Live earlier this year. The 40-year-old Alex is newly divorced. He lives in a garage, owned by a friend, with weekly visits from his young daughter. John Larroquette, of Night Court fame, portrays the senior Alex Riley. He recently survived a heart attack. Now, he's turning his company over to his now grown daughter.
My take is that Larroquette is too tall and looks out of place. Moynihan, who plays Riley at forty, is five-foot seven inches tall; Larroquette is six-foot five inches tall. Most people shrink, as they get older, not get taller. Was Larroquette really the best casting choice? His personality is not at all like Moynihan either. I give Me, Myself and I a conditional thumb up and hope for the best.
9JKL, on CBS-TV, has more retreads than Goodyear has tires. After Royal Pains, did Mark Feuerstein, who portrays Josh, have to jump back into network television? Oy. The title refers to the apartments in which, his parents he and his brother live, 9J, 9K and 9L, of a Manhattan building. Elliot Gould and Linda Lavin portray the parents of Josh, who spends all his time trying to set boundaries for his intrusive, well-meaning family. My take is not ride the elevator to the ninth floor and one thumb down for 9JKL.
Young Sheldon, on CBS-TV, is a prequel to The Big Bang Theory (TBBT). In the latter show, a grown up Sheldon is an annoying genius. This series shows exactly how he got that way. Iain Armitage plays young Sheldon. Zoe Perry portrays his mother. She is the daughter of Laurie Metcalf, who plays his mother on TBBT. The exchanges among Sheldon, his father and siblings are funny, especially when he calls his older brother a monkey. My take is to watch, enjoy and laugh with Young Sheldon and thus a big thumb up for the show.
The Good Doctor, on ABC-TV, is what you get when you mix an autistic and savant syndrome physician with a crusty hospital administrator. You get Freddie Highmore and Richard Schiff playing student and mentor against everyone else in the hospital. My take is I like hospital shows and Richard Schiff, who is also is on the HBO series, Ballers. If they let Highmore stretch himself, this show will find a worthy audience and thus a thumb up.
Kevin (Probably) Saves the World, on ABC-TV, asks if you can you be crazy when you see an angel that no one else can see or is it a sign that something bigger is going to happen? Yes and Yes. Jason Ritter, son of the late John Ritter, is Kevin, who is going through some hard times, when angel Yvette, portrayed by Kimberly Hebert Gregory, suddenly appears to tell him that he is the last of the thirty-six righteous souls on Earth. His task is to find thirty-five new righteous souls to continue the one thing that the planet cannot live without: hope. My take is the supporting cast is good with a sister, niece and former high school crush trying to understand exactly what Kevin is going through. I'll give Keven (Probably) Saves the World a thumbs up.
---
Old style black versus white, guys versus bad guys show.
---
Seal Team, on CBS-TV, gives me guys with guns against the bad guys with guns; I'm in. Although I didn't watch star David Boreanaz as Seeley Booth on Bones, Seal Team had me from the previews. I've read all the Richard Marcinko novels about his days as a Seal, so until his books become movies or television shows, this is the next best thing. My take is a guy show, so they hit the mark with me and get one thumb up.
Will & Grace: 11 years later, on NBC-TV, is a retread, no gayer than before, only older. My wife loved this show w hen it first appeared on NBC, but she's lukewarm about it now. I didn't watch the original incarnation of Will and Grace, but I'm giving it a chance. So far, I'm not impressed. Jack is still so over the top gay. Karen is more annoying than before. Grace is talented but clueless. Will is slightly older and wiser, but needs to find a real relationship. My take is to award no thumbs, for now.
The Deuce focuses on seedy characters working 42nd Street, between 7th and 8th Avenues, in New York City. The show is set 1971, when porn and prostitution ran wild in Manhattan. James Franco plays chain-smoking twin brothers, Vinnie and Frankie; Vinnie is addicted to gambling and Frankie has a knack for running semi-sleazy bars. Maggie Gyllenhaal portrays Candy, the lead female. She's a prostitute that wants to make, not star in, porn movies. The supporting cast is good. I like James Franco, but this show is simply awful. I tried watching it, but couldn't make it through the first episode, which was the best so far. That first episode was rough, but introduced and defined the core characters well; thereafter, the characters descended into cliches, such as a corpulent, late-middle-age man passing away during sex with a prostitute. This will be another HBO flop simply because it's bad, even thought it was picked up for a second, eight-episode season. My take is to give The Deuce two thumbs down.
---
Seth MacFarlane creates a new show for Star Trek nerds
---
The Orville, on Fox, is for science fiction and Star Trek nerds. Thus, this show is a winner. Seth MacFarlane has created a winner. Not only did he create the show, but he also starts as Captain Ed Mercer. His ex-wife Kelly, portrayed by Adrianne Palicki, is the first officer. Scott Grimes portrays the very dry and funny helmsman, Gordon. You may remember Grimes as a rather lame doctor, Archie Morris, on final season of "ER." Don't think of this as a Star Trek spoof, but as homage, which is a dream project for MacFarlane. He hit this one out of the solar system. My take is to give The Orville two thumbs up! Watch it!
More reviews of the fall 2017 television season next time.