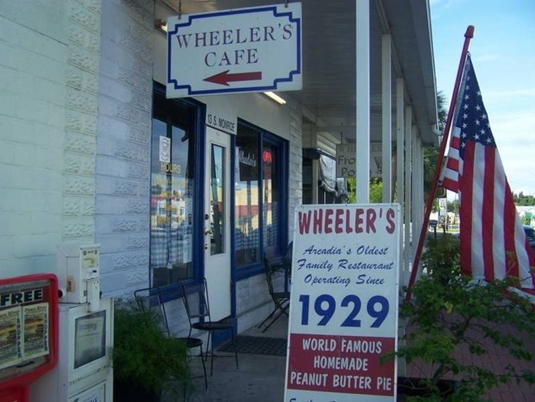 Local restaurants are always the best. It's not just about supporting a community business. There's also the matter of getting foods with a local flair and flavour.
---
The Vineyard has only one food chain.
---
I grew up going to Giordano's and the Arcade on Martha's Vineyard, to name only two of the local restaurants. In fact, the island had, has, only one chain food business: a Dairy Queen in Edgartown. The old timers say it blew over from the mainland during a nor'easter.
Some years ago, when I was dating my future wife, Jo Ann, she took me to a little hole-in-wall place in Arcadia, Florida, called Wheeler's. It was and is quite the old established restaurant in the town having opened its doors in 1929.
Looking around its interior, the long counter has the classic soda-shop-pole seating. The tables are impossibly closer together; a wheelchair would be hard to navigate the room; the air conditioning obviously retrofitted into the building. On top of that, to get to the restroom, you have to literally go outside the building and walk around to the back of the building.
Many families, multi-generational ones at that, meet there on Sundays for a nice lunch. According to my wife, people keep coming back year in and year out. She's personally seen the same folks there from the time she was in high school right up to the present; it was common for upwards of four generations to sit down for a nice meal and pleasant conversation. As a side note, my wife worked at the local McDonalds when she was in high school, but Wheeler's was where everyone went.
That says something about how good a place it is and there is no denying the food is great!
---
Famous peanut butter pie.
---
In particular, the Wheeler's is famous for one very special dessert item: peanut butter pie. By the healthy standards, of today, this pie is not something anyone who is counting calories would ever consider eating, a single slice probably has as many calories as an entire meal. When it comes to sugar content, each serving should have an insulin chaser.
Still, if you eat one bite of Wheelers peanut butter piece, consider yourself hooked for life. To say it is delicious does not do justice to the creamy confectionery delight that is their peanut butter pie. Jo Ann took me there for lunch, on one of our visits to see her parents.
When the main meal was over, she ordered me a piece of the pie. Just the name was enough to get me to try it, as I'm a happy peanut butter eater from waaaayyyy back. I think I almost blacked out from the sugar rush, as I ate it a little too fast, but it was a phenomenal taste treat. From then on, every visit to Arcadia included a swing by Wheeler's, sometimes just to get a to-go order of the pie.
I also learned to moderate my eating habits to control the flow of high-octane pleasure coursing through my veins. Very often, we'd buy a whole pie, sometimes two to bring home.
---
We rationed the pie to make it last.
---
My in-laws no longer live in Arcadia. We don't visit, much, but we miss that great pie. There is a small compensation: Jo Ann finally learned to make her own version of the dessert. She makes it occasionally and we can't help but think of how great it is that a local place like Wheeler's is around to inspire such a delightful treat. If you ever find yourself in Arcadia, be sure to stop by Wheeler's to try the peanut butter pie for yourself.
Combining the gimlet-eye of Philip Roth with the precisive mind of Lionel Trilling, AJ Robinson writes about what goes bump in the mind, of 21st century adults. Raised in Boston, with summers on Martha's Vineyard, AJ now lives in Florida. Working, again, as an engineeer, after years out of the field due to 2009 recession and slow recovery, Robinson finds time to write. His liberal, note the small "l," sensibilities often lead to bouts of righteous indignation, well focused and true. His teen vampire adventure novel, "Vampire Vendetta," will publish in 2020. Robinson continues to write books, screenplays and teleplays and keeps hoping for that big break.
More by AJ Robinson:
Tell a Friend
Click above to tell a friend about this article.